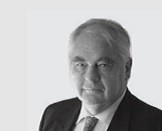 "Slattery prides itself on assisting clients to achieve their objectives for each and every project. Dedicated to direct and honest communication, the Slattery team is focused on delivering value for clients throughout Australia."
Peter Slattery
Founder | Slattery
Slattery was founded in 1976 by Peter Slattery, who left a global QS practice to build his own company, shaped by the underlying principal of an inclusive culture to power creativity and spark innovation. Peter believes that by having a workplace that recognises and nurtures diversity, it cultivates a sense of belonging. This in turn, sustains retention, drives recruitment and creates a profitable, high-performance work environment. This philosophy has contributed to the continued success of Slattery over four decades. Ultimately, it is Slattery's clients that are the main beneficiaries of this approach.
In 2000, Peter retired as Managing Director, and with his wife Cate Slattery purchased the Terindah Estate Winery with a vision to create the Bellarine Peninsula's most beautiful food and wine destination, now an award-winning winery.
Slattery has continued to grow, with Josh Slattery at the helm, opening offices in Sydney in 2003, Brisbane 2008 and Perth in 2012 and cost managing many of Australia's most exciting property and construction projects.
In October 2017, Sarah Slattery was appointed as Managing Director; the first female managing director of any quantity surveying firm in Australia. Slattery is a contemporary, diverse work-force of over 90 staff, with a progressive growth strategy to service a dynamic national property and construction industry. With an ability to become an integral part of the project team, a commitment to excellence and innovation has earned Slattery the trust and respect of clients and project teams alike. Slattery will add value to the project by taking control and ownership of the cost management process from the outset.
In 2018, Slattery won the PwC Award for Diversity for companies with less than 250 employees at the Property Council of Australia / Rider Levett Bucknall Innovation and Excellence Awards in May. Slattery earned the judges' applause for building a business with diversity at its heart.